New Version Currently Available!
Download V-Setup 4 shareware version Now!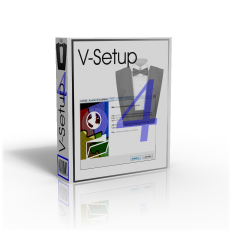 V-Setup is an extremely easy to use tool for developers to quickly build and deploy installers and setup builds to distribute their software.
With a what-you-see-is-what-you-get (WYSIWYG) interface building an installer is as easy as clicking a few buttons and entering some text to get your installer ready to distribute.
Full support for Windows Vista UAC and administrative required modes, support for multi-disc installs and direct support for burning directly to disc media are some of the new features within V-Setup.
There is no need to learn complicated scripting and fiddling with plug-in modules, everything you need to build a fully functional installer for all versions of Windows is within your grasp with V-Setup.
V-Setup can write directly to the Windows Registry, copy files to any portion of a Windows system, modify existing files on disc, overwrite files based on version checking, registering ocx and dll's, creating shortcuts and internet shortcuts, running executables after installation completion and before software uninstalls, fully customizable dialog screens and text, and built in support for multi-lingual installations.
When you need to quickly build and deploy a robust installer for your software, V-Setup is your best option.